Camp Claiborne
Forest Hill, Louisiana
---
...Aubert stayed at Fort Custer only five days and then, as one of the 3,845 men assembled there, traveled by train to Camp Claiborne, LA, for basic training. Camp Claiborne was located in the Kisatchie National Forest, at Forest Hill, approximately 17 miles south of Alexandria. Basic training lasted about thirteen weeks. Aubert received his promotion to Private First Class on February 1, 1943, and then another to the rank of Corporal a month later on March 1, 1943. He also received his Advanced Individual Training (AIT) at Camp Claiborne and this lasted until the beginning of May 1943.

Shirley had written to Aubert, telling him that when he came home on his first leave that they were going to get married. Shirley and her mother, Nellie Emrick, went to the Wayne County Courthouse for the marriage license. Shirley had already gone in advance to Sacred Heart Church in Dearborn to schedule the marriage ceremony and to sign an agreement to raise any children as Catholics. Sacred Heart was the selected parish because if she had already been Catholic, it would have been her home parish.

Aubert was granted furlough, leaving for Michigan by train on May 3, 1943, and arriving May 5, 1943. When Aubert came in to Detroit from Camp Claiborne, his future parents-in-law, Elbert and Nellie, along with Shirley, drove to Michigan Central Railroad Station on Michigan Avenue to pick him up. During the next few days, he stayed with his own parents, Albert and Aurore Seguin, in their home at 1950 LaSalle Gardens in Detroit.

On the day of the wedding, Aubert picked up Shirley in a green 1939 Ford. They were married by Fr. James L. Hayes about noon on May 7, 1943, in the rectory of Sacred Heart Church, three days after Shirley turned 18. Aubert wore his military uniform and Shirley wore a pale blue dress. The ceremony was in the rectory and not the church because it was a "mixed faith" marriage between a Catholic groom and a non-Catholic bride. (Shirley did not convert to Catholicism until December 7, 1951.) Shirley's sister and brother-in-law, Madeline and Kenneth Rommann, were best man and matron of honor. Since the Catholic Church wanted Catholic witnesses, William "Mike" Voscinar (a good friend of Aubert's from A&P Supermarket) and Therese Seguin (Aubert's sister) were also at the wedding. Afterward, the six of them had a brunch at Hedges' Wigwam Restaurant on Woodward Avenue at 12 Mile Road. From there, Aubert and Shirley went with Madeleine and Kenneth to Elbert and Nellie's home. The newly-married couple then went to visit her sister and brother-in-law (Lucille and Harold Martin) in Dearborn. From there they next went to Albert and Aurore's home. Aubert and Shirley spent their honeymoon days at Madeline and Kenneth's apartment on Grand River since no gasoline was available due to wartime rationing. It was not until after the war that they were able to take a delayed honeymoon trip to Niagara Falls, NY.

On May 16th, Aubert left to return to Camp Claiborne and arrived May 18th. A month later, on June 19, 1943, he became a naturalized citizen of the United States based upon petition #977 to the U.S. District Court of the Western District of Louisiana, Alexandria Division. His physical description was listed as 5'8 1/2", 128 pounds, brown hair, and hazel eyes. An unusual incident occurred at this time which forever legally changed his name. Aubert had grown up always believing that his legitimate name since birth was Aubert Ferdinand Seguin. Therefore, in making his petition to the court, he applied using the same name with which he entered the Army. The petition being granted, his legal American name became Aubert Ferdinand Séguin on Certificate #6002000. It was not until 35 years later, in October 1978 as he prepared for a trip into Canada and checked his baptismal certificate (which served as the only legal document of his birth), that he learned his full and correct name given at birth was Joseph Ulric Fernand Aubert Séguin.

The 103rd Infantry Division moved by motor march on August 8-9, 1943, to an area west of camp near Slagle, Simpson, and Hineston, LA, and engaged in a what was known as the "D Series" of field problems. During this time, Aubert was made a squad leader. From his notebooks, it appears that his platoon leader was 1Lt Charles H. Thompson of Vienna, VA, and the platoon sergeant was a Sgt Brandies. The men assigned to Aubert's squad and for whom he was responsible included:

August C. Stapp, 36548667, Detroit, MI (First Scout)
Darrell B. Brockmeyer, 37447920, Bennett, IA (Second Scout)
Nickie G. Meyers, 37542323, Sebeka, MN (BAR Record)
Vito J. Campabello, 36626937, Chicago, IL (BAR & M1 Record)
Pfc Thomas F. Coyne, 36714005, Chicago, IL (Ammo Bearer, BAR, & M1)
James A. Dockins, 34497341, Lebanon, TN (Rifleman)
William Remmenga, 37466300, Elwood, NE (Rifleman)
John M. Sexton, 36548469, Moorehead, KY (Rifleman)
John E. Klein, 37447468, Waterloo, IA (Rifleman)
Everett C. Maine, 37246264, Marionville, MO (Rifleman)
Dominic N. Panarese, 36702444 , Chicago, IL (.03 Records)
Ernest C. Lehmann, 37541346, Minneapolis, MN (Platoon Messenger)
Hanna (Platoon Basic)
Pfc Leslie A. Singleton, 37162399, Duluth, MN
Pvt Edward J. Oleksiak, Detroit, MI
Pvt James H. Gray, Detroit, MI
Pvt Carmen Minano, Dearborn, MI
Pvt Leonard J. Urbanowski, Chicago, IL
Pvt Victor J. Conway, Baraboo, WI


The division returned to Camp Claiborne on September 2 and stayed there two weeks until September 15, 1943, when it departed on another motor march which would last for two months. This march took them through the communities of Anacoco, Hornbeck, Kurthwood, Alco, Zwolle, Burkville, Winnfield, Mathis, Evans, Boyce, and Hawthorne. During these maneuvers which had four flag exercises to simulate European battle conditions, the 103rd Infantry Division took part in attack, defense, delaying actions, and river crossings. In a post card dated September 23, 1943, and postmarked at Shreveport, LA, he wrote to Shirley's parents regarding his application for Aviation Cadet appointment:

"Dear Mom & Dad - Still waiting word from the Cadet Board. Awful anxious. Hear you folks haven't been feeling too well. Take care of yourselves. And take car of my honey too. I'll let you folks know how I make out. Love, Whitie"

The maneuvers ended with a crossing of the Sabine River on engineer bridges and the division went into bivouac near Merryville, LA, on November 15, 1943.

The "Cactus" Division then received a permanent change of station for maneuvers at Camp Howze near Gainesville, TX, and set out three days later by rail and motor march.

HISTORY: This World War II tent camp, initially called Camp Evangeline, was renamed for William C.C. Claiborne, the Governor of the Territory of Orleans and first governor of the State of Louisiana. It was located in Rapides Parish on the west side of U.S. Highway 165 (at the intersection of Louisiana State Highway 112), about 17 miles southwest of Alexandria in the Evangeline District of the Kisatchie National Forest (established 10 Jun 1930), just north of Forest Hill, LA.

Remains of the Main Gate

During World War II, Camp Claiborne was one of four military posts in the vicinity of Alexandria, LA. The other three were Camp Livingston, Camp Beauregard, and Alexandria Army Airfield (later named England AFB). Construction of Camp Claiborne was started in 1940 by the W. Horace Williams Company of New Orleans. By December of that year, 13,300 workmen were engaged in building the camp which was about two and one-half miles long by one and one-half miles wide. It had 684 frame buildings and 6,796 tents, occupying 3,100 acres. The final cost of the initial camp was in excess of $14,000,000. West Camp Claiborne was added in 1943.

Standing by the remains of an old supply warehouse, Mr John B. Butter, a Forest Hill resident, delivered newspapers to the camp as a boy. He and his wife, Vivian, owned a restaurant in town in 1992.

Companies E, G, and H of the 22nd Infantry arrived at the camp in December 1940, and 151st Engineer Regiment was there in January 1941. The 34th National Guard Division (from the States of Iowa, North Dakota, South Dakota, and Minnesota) had completely moved into the camp by February 1941.

Remains of what appeared to be a water treatment plant

The 82nd Infantry Division was activated at Camp Claiborne but was converted to the 82nd Airborne Division. The latter was split there on 18 August 1942 to create the 101st Airborne Division.

Remains of a camp theater along the north side of Camp Claiborne Road

Although the 11 key commanders and the 85th Division's initial cadre of 210 officers and 1,446 enlisted men arrived in early October 1942, the 103rd Infantry Division was not officially activated at Camp Claiborne until 15 November 1942. More troops to bring the division to its required strength began arriving on 4 December 1942 They came from: Camp Grant, IL (4,060), Fort Custer, MI (3,845), Fort Leavenworth, KS (1,307), Fort Dodge, IA (1,036), Fort Snelling, MN (990), Jefferson Barracks, MO (526), Fort Bragg, NC (600), Fort Oglethorpe, GA (600), Fort McPherson, GA (537), Fort Jackson, SC (218), and various posts in the Eighth and Ninth Service Commands (921). The division received its 13 weeks of initial basic training and remained in place at Camp Claiborne until it departed for maneuvers in western Louisiana on 15 September 1943, and was officially given a permanent change of station from its final maneuvers location (Merryville, LA) to Camp Howze, TX, on 18 Nov 1943. Later a large part of Camp Claiborne was used for training engineering units and service forces. The Camp Claiborne and Fort Polk military railroad was constructed for use in training railroad battalions. Almost half a million troops trained at Camp Claiborne before it was deactivated on 15 December 1945. It was commanded from 24 August 1944 to 20 Oct 1945 by Brigadier General Louis F. Guerre, a longtime officer in the Louisiana National Guard.

Part of the camp was used to house prisoners of war. Over 7,000 buildings at the camp were sold in March 1947. Portions of the range have been used by the U.S. Air Force for bombing exercises in recent years.
---
LOUISIANA STATE UNIVERSITY AT ALEXANDRIA
ORAL RECORDS COLLECTION
Brigadier General Carlton Smith was interviewed by his granddaughter, Patricia Lavoner, in 1974. Smith was a major with the 634th Tank Destroyer Battalion at Camp Claiborne.

Patricia introduced her subject with this note: "General Smith toured the abandoned camp with me on April 8th, 1974, and pointed out the crumbled foundations which is all that remains of Claiborne build 34 years ago."

Smith told his granddaughter: "We arrived at the Camp Claiborne site in the fall of 1940. The camp area was under a complete construction program. Thousands of workmen from the area were building the temporary housing and utility buildings for the entire camp, which was expected to be used early in 1941. The area at that time consisted of 6,195 acres plus a large training and maneuver area, approximately 40 miles, extending west to Camp Polk. Much of this area was on a lease basis and was used only as a maneuver and training area."

"The camp site consisted of a tent area and many more or less permanent type structures that would last for an unknown period. The first troops arrived in January and February 1941. They mainly consisted of the 34th Infantry Division from Iowa, Nebraska, Minnesota, and South Dakota, plus many other service units and engineers units were were to help in construction of the area."

"There is still evidence in the area where one can identify the actual sites where the troops were located, where the buildings were located, and the maneuver and training area."

"At the entrance of the camp area off of Highway 165, the stone and concrete columns still identify the old camp entrance."

"Shortly inside the old gates were the buildings used for vaults for the camp records and finance offices. This area was also used for construction headquarters during the time of the construction."

"Further in the camp you can identify the foundation, footings and columns of the old gymnasium and theater buildings. The service road through the center of the camp has now been improved and is the main route from Highway 165 to Leesville."

"The location of the old camp headquarters, the camp quartermaster, and the utility services for the camp can be identified by the footings, the walls, the remaining parts of the concrete buildings and by rows of concrete footings that extend above the ground. These can be easily identified for most of the buildings on the site."

"Although I know where the old hospital building was located, there is little evidence to indicate that it was ever there. The area has been reforested and has grown to cover this particular area. The hospital had been built for 1,656 beds and was located near the hill at the center of the camp."

"The roads for the camp still crisscross through the area. Most of these roads have been barricaded due to deterioration or salvage. The area roads still in use consist of the main road through the camp to Leesville and various service roads accessible to the areas around the camp. The entire camp area, still owned by the government, has been reforested and is now under the supervision of the U.S. Engineers" (U.S. Forest Service)

"As we stand here today and see the mute evidence of what was a part of World War II, we hope that the time will never come again when it will be necessary to rebuild Camp Claiborne, as it was an emergency project for World War II."

---
COMMEMORATIVE MARKER
At the entrance to Camp Claiborne (U.S. Highway 165 and Louisiana Highway 112), the State of Louisiana has erected a commemorative marker, noting the existence and location of the camp.

Aubert and Shirley Seguin visiting Camp Claiborne, 1992
CAMP CLAIBORNE
Activated Oct 1940 - Deactivated Dec 1945

Camp Claiborne was named for William C.C. Claiborne, first governor of the state of Louisiana. The camp was part of the 8th Service Command. It was also home for the U.S. Army's 34th Infantry Division, the first American force sent to the European theater. The camp's 23,000 acres were also the center of the famous "Louisiana Maneuvers," which were the largest peacetime war games ever conducted. Almost 500,000 American troops trained here between 1940-1945. When Congress deactivated the Camp, use of the land was returned to the U.S. Forest Service.

---
COMMEMORATIVE MARKER
A commemorative marker placed in downtown Alexandria, LA, in front of the Hotel Bentley, recalls the Louisiana Maneuvers.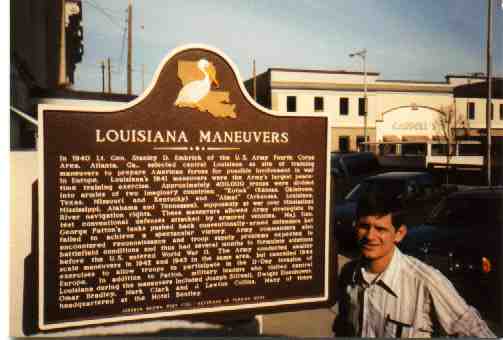 LOUISIANA MANEUVERS

In 1940, Lt. Gen. Stanley D. Embrick of the U.S. Army Fourth Corps Area, Atlanta, Ga., selected central Louisiana as site of training maneuvers to prepare American forces for possible involvement in war in Europe. Louisiana's 1941 maneuvers were the Army's largest peacetime training exercise. Approximately 400,000 troops were divided into armies of two imaginary countries: "Kotak" (Kansas, Oklahoma, Texas, Missouri, and Kentucky) and "Almat" (Arkansas, Louisiana, Mississippi, Alabama, and Tennessee), supposedly at war over Mississippi River navigation rights. These maneuvers allowed Army strategists to test conventional defenses attacked by armored vehicles. Maj. Gen. George Patton's tanks pushed back conventionally-armed defenders but failed to achieve a spectacular victory. Army commanders also encountered reconnaissance and troop supply problems expected in battlefield conditions and thus had several months to formulate solutions before the U.S. entered World War II. The Army conducted smaller scale maneuvers in 1942 and 1943 in the same area, but cancelled 1944 exercises to allow troops to participate in the D-Day invasion of Europe. In addition to Patton, military leaders central Louisiana during the maneuvers included Joseph Stilwell, Dwight Eisenhower, Omar Bradley, Mark Clark, and J. Lawton Collins. Many of these headquartered at the Hotel Bentley.
This section is the work of Ken Sequin and family - his server, Talkcity.com, is offline.

I had copied the site before it closed,

this is near complete without the

guestbook and talkcity links. No adjustments will be made in this section until Ken returns.

Some links and items are omitted because of "not available" items and the original site was in Apple, this site is Frontpage.