Books Available
---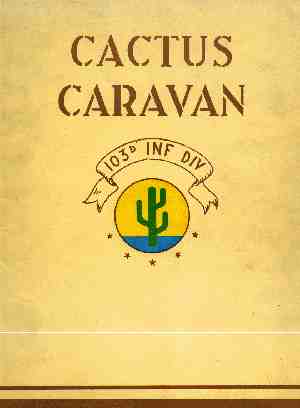 Ackelmire, John G., Shumaker, John H. Jr., and West, Dick. Cactus Caravan - 103d Inf Div. Atlanta, GA: Albert Love Enterprises (1944) 64 pp (ISBN unknown)

---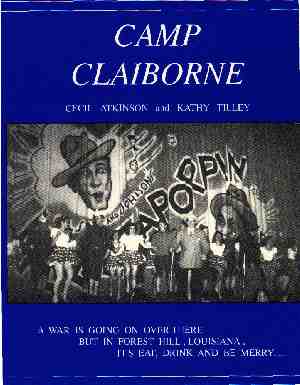 Atkinson, Cecil, and Tilley, Kathy. Camp Claiborne. Forest Hill, LA: Ack Hill Publishing Company (1990) 163 pp ISBN 0962685305

Available at Telephone 1-800-201-7575 or:

---

Barclay, William F. 103d Infantry Division Signal Company Remembrances. (published by author) (1995) 320 pp (ISBN unknown)

The full text of Bill Barclay's original book (less pictures) is now available in downloadable-size parts on:

This book is currently being expanded with photographs and additional text by Andrew Beck, son of Captain Bernard Beck, Commander, 103rd Signal Company. The author may be contacted at:

---

Blaine, Jan Without Their Boots: A Sentimental Return in Alsace. (1993) 141 pp

For further information contact:

---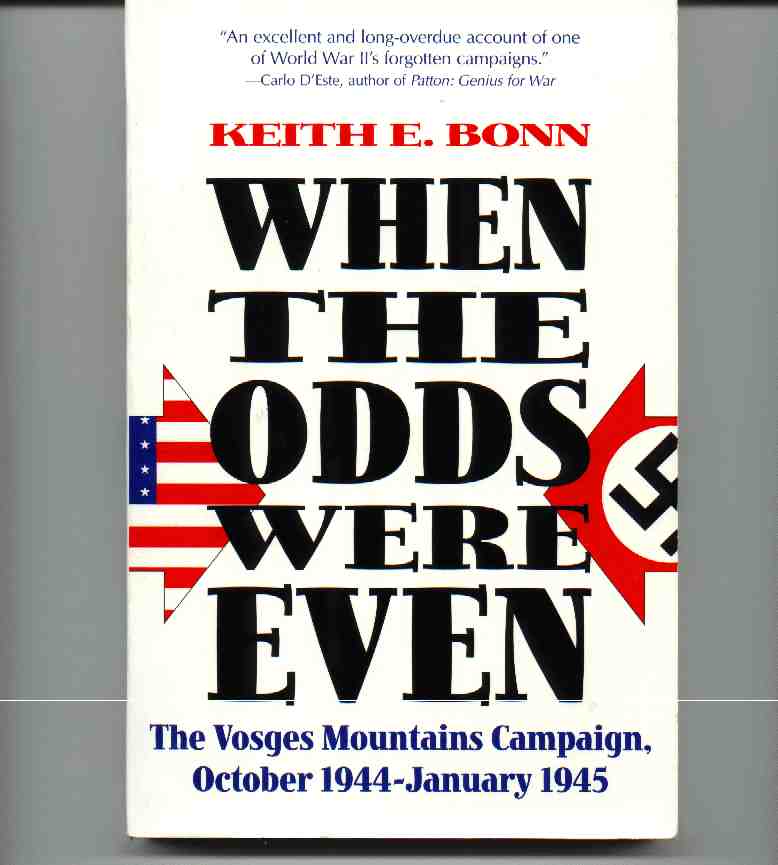 Bonn, Keith E. When the Odds Were Even; The Vosges Mountains Campaign, October 1944 - January 1945. (1996) 320 pp, 28 photos, 14 maps ISBN 0-89141-602-1

Bonn focuses on the little-known story of the U.S. Seventh Army's campaign to breach the enemy's Vosges Mountains--in Northern France--defenses, which were occupied by some of the Nazis' finest combat units. He compares the training and doctrine of the U.S. and German armies, the strengths and weaknesses of the commanders on both sides, and provides a lively narrative of the campaign itself in When the Odds Were Even. Includes 103rd Division information.

Available at Telephone 1-800-201-7575 or:

or:

Visit the author's website at:

---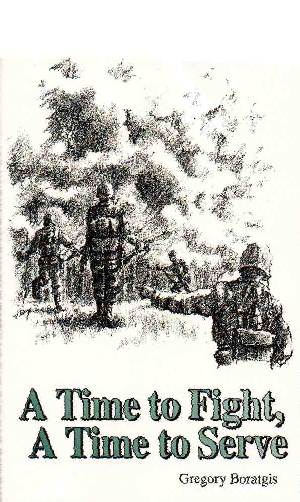 Boratgis, Gregory. A Time to Fight, A Time to Serve. Dorrance Publishing Co., Inc. (1995) 97 pp ISBN 0-8059-3715-3

One soldier's World War II experiences with the 103rd Division in Europe, including his reflections on pre-war days, his consuming passion for football, and his coming of age as a young man trying to keep his father's factory running.

Available from Dorrance Publishing Co, 643 Smithfield Street, Pittsburgh, PA 15222; or

Available at Telephone 1-800-201-7575 or:

---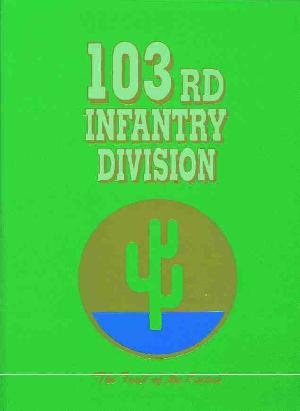 Branton, Harold M. 103rd Infantry Division - Trail of the Cactus. Paducah, KY: Turner Publishing Co (Second Ed.) (1996) 208 pp ISBN 1-56311-288-4

Available from Turner Publishing Co, 412 Broadway, P.O. Box 3101, Paducah, KY 42002-3101. Telephone (502) 443-0121 or 1-800-788-3350

Write the author at: P.O. Box 77, Shongaloo, LA 71072

---

Clayton, Arthur J. Mud and Guts: Personal Recollections of World War II. (unpublished) (1997) 135 pp ISBN (unknown)

Visit the author's website at:

Contact the author at:

---

East, William, and Gleason, William. The 409th Infantry in World War II. Battery Press. (1986) 167 pp ISBN 603-409.1986

Available at Battery Press: Telephone 1-800-201-7575, or visit their web site at

---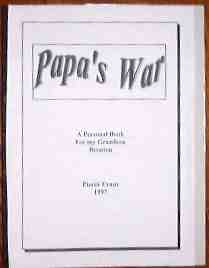 Evans, A. Pierce. Papa's War: A Personal Book for My Grandson Brenton. (published by author) (1997) 270 pp ISBN D811E925

Out of print, but available in its entirety on the author's website, Papa's Web. Visit the author's website at:

Contact the author at:

to obtain a Wordperfect 6.1 copy. If you do not have Wordperfect, go to Corel.com for the browser plug-in. Copies of Wordperfect 6.1 are also available in starter computer kits, bundled with several other programs.

---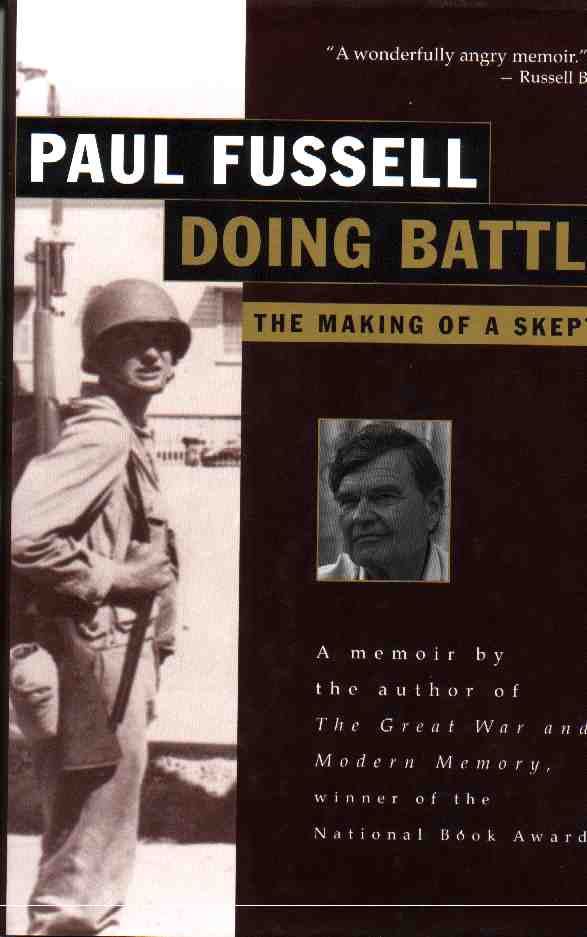 Fussell, Paul. Doing Battle: The Making of a Skeptic. Boston, MA: Little, Brown and Co. (1996) 310 pp ISBN 0-316-29717-8

This book recounts in heart-wrenching detail the combat experiences of a 20-year-old infantry lieutenant as he leads his men across France in late 1944 and early 1945. This intimate experience on the edge of life and death changed the boy into a man who became a lifelong critic of American society and institutions, especially the U.S. government and specifically the U.S. Army. The effect of participation in combat on the rest of one's life is often negative and can be destructive, but in some cases such as the story told in Doing Battle, it is positive.

Two elements of the book are of interest to readers of war history. One is the first-hand account of life as an infantry officer in World War II, told with such a power and authenticity that it is hard to believe the events described happened 50 years ago. Also captivating is the author's recounting of how he dealt with the psychological aftermath of being a killing machine. Fussell suffered terribly over the years from what would today be described as post-traumatic stress disorder, wondering why he survived when so many around him did not.

It is fascinating to read about this man's journey through the fire, how it changed him forever, and then how he not only survived on the other side but triumphed. This book serves as a memorial to his fallen comrades and an inspiration to those who survived with him.John I. Witmer

Available at Little, Brown and Co. Telephone 1-800-759-0190

---

Gleason, William. Task Force Kommando: Camp Howze, Texas to Jenbach, Austria. (1945) 71 pp ISBN 603-409.1945a

---

Kinlaw, Howard. From Bruyeres to Brenner: The Combat Story of the Fighting 411th. Innsbruck, Austria (1945) 14 pp ISBN 603-411.1945

---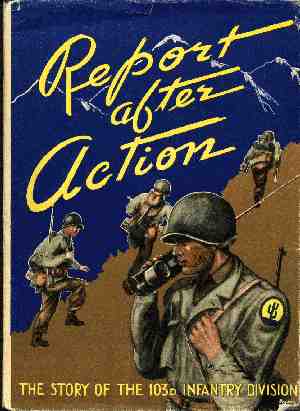 Mueller, Ralph and Turk, Jerry. Report After Action: The Story of the 103d Infantry Division. Innsbruck, Austria: Wagner'sche Universitats-Buchdruckerei (1945) 166 pp ISBN 0-89839-010-9

Reprinted by Battery Press (1987) and available at: Telephone 1-800-201-7575, or visit their web site at

or:

---

Powers, Robert, 411th Inf Regt. Holocaust. (published by author) (unknown date) pages unknown ISBN (unknown)

---

Sandell, Robert. World War II - Letters Home: At Least My Hands Weren't Blown Off. (unpublished) (date unknown) (pages unknown) ISBN (unknown)

Visit the author's website at:

Contact the author's grandson, Alex, at:

---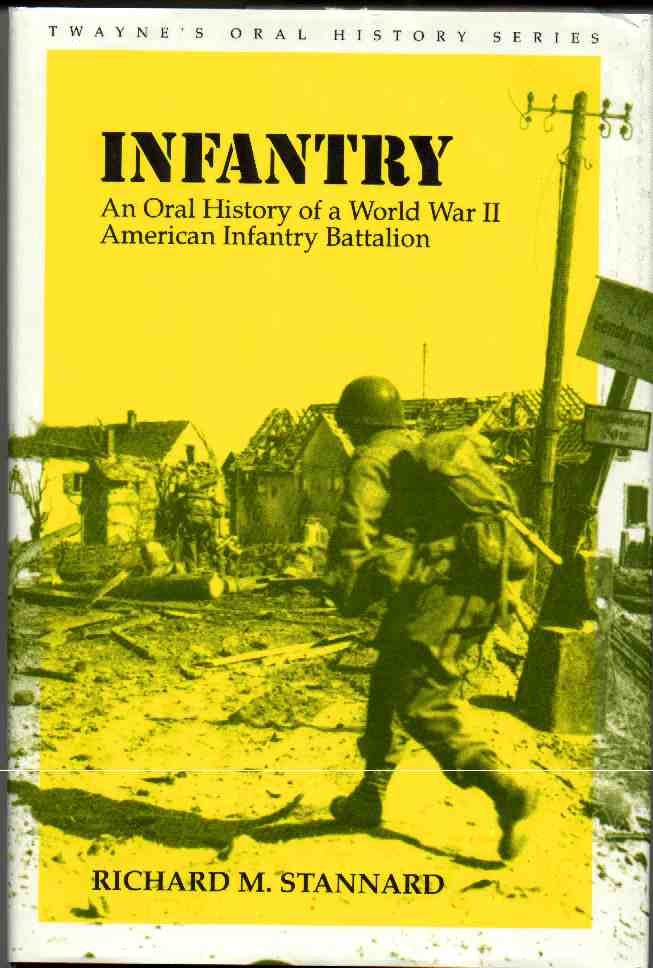 Stannard, Richard M. Infantry: an Oral History of a World War II American Infantry Battalion. New York, NY: Maxwell Macmillan International (1993) 318 pp ISBN 0-8057-9117-5 (hardback) and 0-8057-9112-4 (paperback)

Available from Book Search, Clear Lake, TX at 1-800-718-2665
Request for reprint can be made to Maxwell Macmillan International at Telephone 1-800-223-1244

Author may be contacted at:
This section is the work of Ken Sequin and family - his server, Talkcity.com, is offline.

I had copied the site before it closed,

this is near complete without the

guestbook and talkcity links. No adjustments will be made in this section until Ken returns.

Some links and items are omitted because of "not available" items and the original site was in Apple, this site is Frontpage.