Battles
The following 34 battles were those engaged in by the men of the 103rd Infantry Division from the time they went "on the line" until the surrender of German forces on Victory in Europe (V-E) Day (11 Nov 44 - 8 May 44):

:
Taintrux Valley, France

Saulcy, France

Steige, France

Ville, France

Maisongoutte, France

Barr, France

Dambach-la-Ville, France

Selestat, France

Mertzwiller, France

Climbach, France

Rott, France

Bobenthal, Germany

Sarreguemines, France

Sessenheim, France

Schillersdorf, France

Moder River, France

Neider Schlettenbach, France

Reisdorf, Germany

Klingenmunster, Germany

Kircheim, Germany

Nurtingen, Germany

Munsingen, Germany

Bohringen, Germany

Turkheim, Germany

Schongau, Germany

Partenkirchen, Germany

Klaus, Germany

Landsberg, Germany

Scharnitz, Austria

Leithen, Austria

Zirl, Austria

Innsbruck, Austria

Brenner Pass, Austria
---
Click here to learn more about the German winter offensive called "Operation Nordwind"

---
Click here to learn about the liberation of political prisoners on 5 May 1945 at Otter Castle northwest of Innsbruck, Austria by soldiers of the 103rd Infantry Division

---
R & R in Paris, France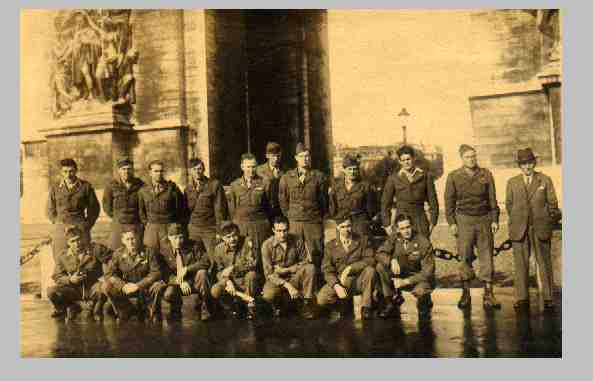 This photograph was taken of a group of soldiers on leave in Paris, France, sometime
during 1945. It appears to have been taken in front of the Arc d'Triomphe.
Corporal Seguin is kneeling in the front row on the far right.

---



Campaigns
For its role in the European Theater of Operations, the 103rd Infantry Division was credited with participation in three campaigns. In military terms, this means that the Division and Regimental colors are authorized campaign streamers to be affixed, and soldiers of the Division are entitled to three campaign stars mounted on their individual European-African-Middle Eastern Campaign medal and ribbon. The three campaigns, the War Department General Order, and the date authorized are noted as:
Rhineland (WDGO 118, 12 Dec 1945) (15 Sep 44 - 21 Mar 45)
Ardennes-Alsace (WDGO 63, 20 Sep 1948) (16 Dec 44 - 25 Jan 45)
Central Europe (WDGO 116, 11 Dec 1945) (22 Mar 45 - 11 May 45)
Since most of the soldiers were discharged as part of demobilization during late 1945 and early 1946, many were never aware that they were entitled to the wear of a third campaign star for the Ardennes-Alsace campaign, which was not approved until 1948. Those former soldiers of the 103rd Infantry Division wishing to have their military records corrected should correspond with:
U.S. Reserve Personnel Center
Attn: ARPC-VFE
National Personnel Records Center
9700 Page Boulevard
St Louis, MO 63132-5100
---

Bronze Star
Many veterans of the 103rd Infantry Division may not be aware that they are entitled to the award of the Bronze Star decoration. Army Regulation 672-5-1 is quoted below:

2-15. Bronze Star Medal
The Bronze Star Medal is awarded to any person who, while serving in any capacity in or with the Army of the United States after 6 Dec 1941, distinguished himself by hoeroic or meritorious achievement or service, not involving participation in aerial flight, in connection with military operations against an armed enemy; while engaged in military operations involving conflict with an opposing armed force in which the United States is not a belligerent party.
a. Heroism. .....
b. Meritorious achievement or meritorious service.
(1) Awards may be made to recognize single acts of merit or meritorious service. The required achievement or service while of lesser degree than that required for the award of the Legion of Merit must nevertheless have been meritorious and accomplished with distinction.
(2) Award may be made upon letter application to Commander, ARPERCEN, ATTN: DARP-PAS-EAW, 9700 Page Blvd, St Louis, MO 63132-5200 (enclosing documentary evidence, if possible) to each member of the Armed Forces of the United States who, after 6 Dec 1941, has been cited in orders or awarded a certificate for exemplary conduct in ground combat against an armed enemy between 7 Dec 1941 and 2 Sep 1945, inclusive, or whose meritorious achievement has been otherwise confirmed by documents executed prior to 1 Jul 1947. For this purpose, an award of the Combat Infantryman Badge or Combat Medical Badge is considered as a citation in orders. Documents executed since 4 August 1944 in connection with recommendations for the award of decorations of higher degree than the Bronze Star Medal will not be used as the basis for an award under the provisions of this paragraph.
(3) .....
This section is the work of Ken Sequin and family - his server, Talkcity.com, is offline.

I had copied the site before it closed,

this is near complete without the

guestbook and talkcity links. No adjustments will be made in this section until Ken returns.

Some links and items are omitted because of "not available" items and the original site was in Apple, this site is Frontpage.