Robert A. Hussey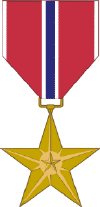 Robert A. Hussey entered into the service on Feb. 13, 1943 in Ft. Thomas,Ky.

His military occupational specialty and no. were "Instrument Operator 645."
He had 1 year, 9 mos. and 29 days of continental service, and 11 mos., 6 days of foreign service.

His training included 6 months at AST Texas A & M College from July 17, 1948 - January 1944.  

His point of separation from the Army was Camp Bowie, Texas.
His highest rank achieved was Staff Sergeant, and he was awarded the
Bronze Star with V Device for Meritorious Service.

Here is the citation, taken directly from The Adjutant General's Office, Decorations and Awards
Branch, Washington DC

Hussey, Robert A. Army Serial # 35788997
Grade Sgt. Organization: 383rd FA Bn. Btry. C
Headquarters: 103rd Inf. Div. APO 470
Order # 169 Date of Order: June 5, 1945
Type of Award: BRONZE STAR MEDAL
Posthumous: No

"For heroic achievement in action. On 16 March 1945 near
Gundershoffen, France, when the forward observer was pinned down by
small arms and artillery fire, Sergeant Hussey advanced over 800 yards of
fire-swept terrain with his radio.

As a result of his action, communication was established and artillery fire
was directed upon the enemy inflicting heavy casualties. His actions reflected
the highest traditions of the military service."